When I was growing up, I would often daydream about my future as a grown up.

I would think about the seasons to come, mapping them out in my head to create a perfect plan for my life.

But things didn't always go according to my plans. My life looks a lot different now than I though it would in my childhood daydreams. God had different plans for me.

And to be honest, that can be hard. There are dreams that I want to be fulfilled, things that I want to happen but they haven't yet.

Life doesn't always go as we plan.
Powered by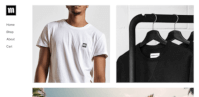 Create your own unique website with customizable templates.