Sometimes, when I'm alone with my thoughts, my thoughts can really beat me up. I'm talking about negative self-talk. The whisperings in my mind that are not encouraging, but leave me feeling yucky and worthless and hopeless.

And the reason they leave me feeling this way is because, at least in the moment, I'm believing them. I'm believing that I'm ugly, that I can't make a difference, that I don't belong, that nothing I do is good enough, that no one could really love me for the real me.

Self-talk is really our thoughts about ourselves. It's what our mind is taking in and putting on replay to whisper to us over and over and over again. It's the messages of the world that we're choosing to believe about ourselves, letting them dwell in our minds and define who we are.

That's why negative self-talk is so destructive. It becomes what we believe about ourselves.

Yet even though it's so destructive, it can be so hard to stop the negative self-talk.
Powered by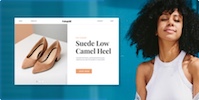 Create your own unique website with customizable templates.