So many of us are waiting for something, and as we wait we can easily become discouraged and discontent and defeated.

We can wonder, "When will the waiting end?" We can struggle to see the good. We can question if God is hearing our prayers. We can feel like we're missing out. We can want to give up.

And so I wrote this series to you, the woman who is waiting for something (whatever that something might be) to encourage you in the waiting, on the good days when your faith is strong and your heart is content, and on the hard days when some doubts whisper and your heart hurts.

God has been teaching me much about waiting, giving me encouragement as I go through my own time of waiting, helping me to trust Him while I wait, and changing how I view waiting.
Powered by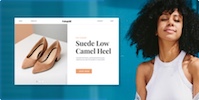 Create your own unique website with customizable templates.