​What do you want to be when you grow up?
Remember getting asked that question as a kid?

I know I gave different answers over the years of my childhood. I went through a phase of obsession with ballet, but never took any lessons. I probably wanted to be a princess at one point or another. When I got into my teen years, my aspirations became a bit more realistic, though I never stuck with one; the answer changed frequently.

That is, until the summer before my senior year of high school, when the real answer to this question came hitting me right between the eyes: I don't know.

Powered by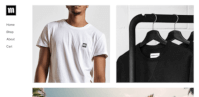 Create your own unique website with customizable templates.